Technosport Canada hires new outside sales representative for Quebec
October 9, 2018 – Over the last few years, Technosport has been expanding its team across Canada. To carry on establishing its presence in the country, the company decided to Francis Brunet as its new representative in the province of Quebec. "As our company is constantly growing and expanding, Francis is thereto help us improve our customer experience", says Sylvain Beauchamp VP Sales & Marketing. (more…)
Technosport Canada Adds PUMA Golf to its lineup
October 9, 2018 – Technosport Canada is excited to announce the addition of  PUMA Golf to its current product offering.
PUMA Golf joins Technosport Canada's current prominent retail golf brands including Nike Golf, Oakley & Lacoste.
For details, please visit Technosport Canada's website
Starline grows its Canadian sales team
October 2, 2018 – Starline Industries is thrilled to announce two new additions to its Canadian sales team. Jerome Smith will be joining Starline as Key Accounts Manager and Domenic Falso will be his counterpart managing Key Accounts in Inside Sales. (more…)
WESTERN IMPRINT CANADA SHOW: RECAP
The Western Imprint Canada Show celebrated it's 20th anniversary by welcoming an excited and enthusiastic crowd of trade buyers and PromoQuest end buyers.
With over 100 leading suppliers there to greet these industry professionals, there was a palpable buzz in the air, providing optimism for current and future business in the various sectors this event encapsulates.
Congratulations to Storm Front Promotions, which won $1,000 as the distributor that had the most clients pre-registered.
Congratulations to Swagworks, winner of a pair of Grey Cup tickets plus prize money, for having the most clients attend.
Congratulations to a lucky and valued Creo Promotions client, who won a pair of tickets to see Keith Urban in concert.
The 21st annual Western Imprint Canada Show returns to Calgary, September 6-7, 2019 at the BMO Centre.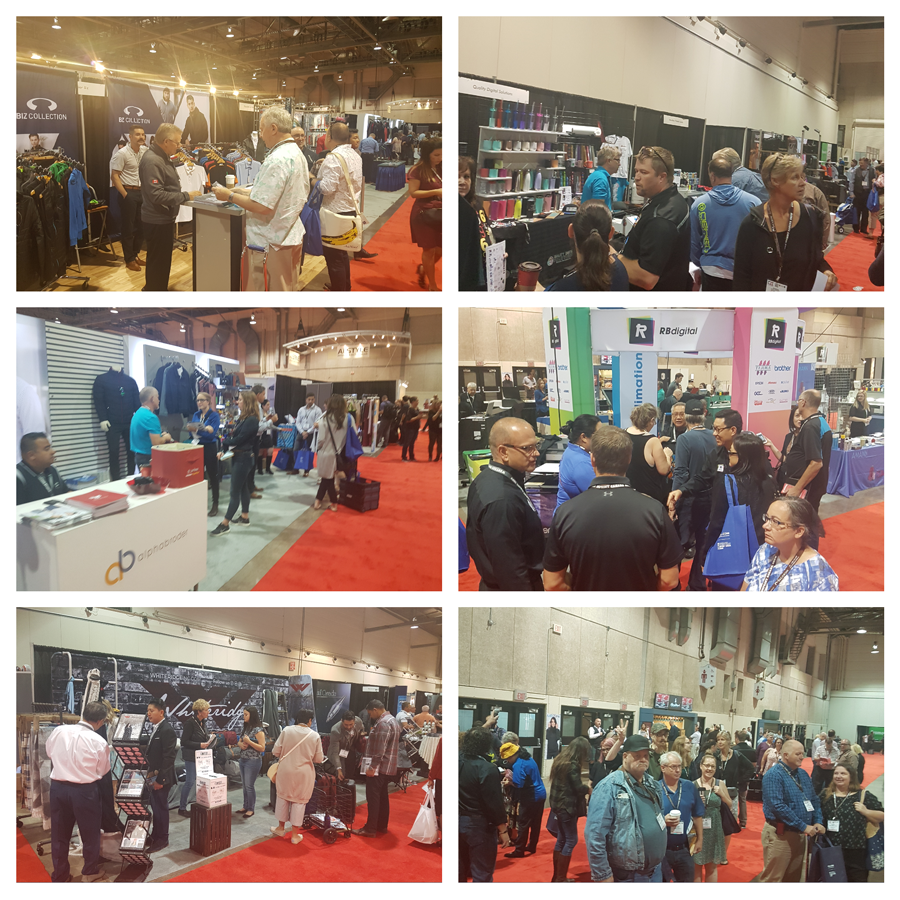 Gildan Releases 2017 Genuine Responsibility™ Report; Launches new CSR website
August 14, 2018 – Gildan Activewear Inc. (GIL; TSX and NYSE) announced the release of its Genuine Responsibility™ 2017 report, which is now available on its new dedicated CSR website www.genuineresponsibility.com.
This year's report, once again prepared in accordance with the GRI Standards: Comprehensive option, highlights the Company's 2017 results, key priorities and future commitments toward its vision of Making Apparel Better™. (more…)
Gildan Activewear Reports Record Second Quarter Sales and EPS
August 2, 2018 – Gildan Activewear Inc. (GIL: TSX and NYSE) reported record second quarter sales and adjusted diluted EPS ahead of its expectations. Strong sales momentum in key growth areas such as fashion basics and international markets continued during the second quarter. (more…)
SGIA Appoints Chief Economist
July 23, 2018 -The Specialty Graphic Imaging Association (SGIA) is pleased to announce that Andrew D. Paparozzi, well-known for his state-of-the-industry reports and economic forecasts for printing, is coming on board as Chief Economist.
Debco Acquired by Hub Promotional Group
June 2018 – In mid-June, it was announced that Massachusetts-based HUB Promotional Group finalized a deal to add its first Canadian supplier – Debco – to its existing portfolio of companies, which currently includes Hub Pen Company, Beacon Promotions, Best Promotions USA and Cooler Graphics.
"This is is a huge win-win! If anything, we'll be even better to our customers," said Alex Morin, Senior Vice President, Sales & Marketing, noting that leadership team and representation across the country will remain on board and intact. (more…)
SGIA Appoints New Executive Vice President
June 19, 2018 – The Specialty Graphic Imaging Association (SGIA) is pleased to announce James Martin has come on board as Executive Vice President, Supplier and Manufacturer Relations. In this capacity, Martin will also serve as Executive Secretary of the soon-to-be-launched Supplier and Manufacturer Advisory Council. (more…)
Gildan Activewear to be featured on the Science Channel's new show: Tomorrow's World Today
May 2, 2018 – Gildan Activewear will be featured on the Science Channel's exciting new TV show – Tomorrow's World Today – which explores global concepts of inspiration, creation, sustainability, technology, and production. 
Follow the journey of proudly grown US cotton from the fields of North Carolina through Gildan's vertically-integrated manufacturing operations, with sustainable solutions and innovative technology on display.
The episode will air Sunday May 6, 8 p.m. EST, on the Science Channel. (more…)